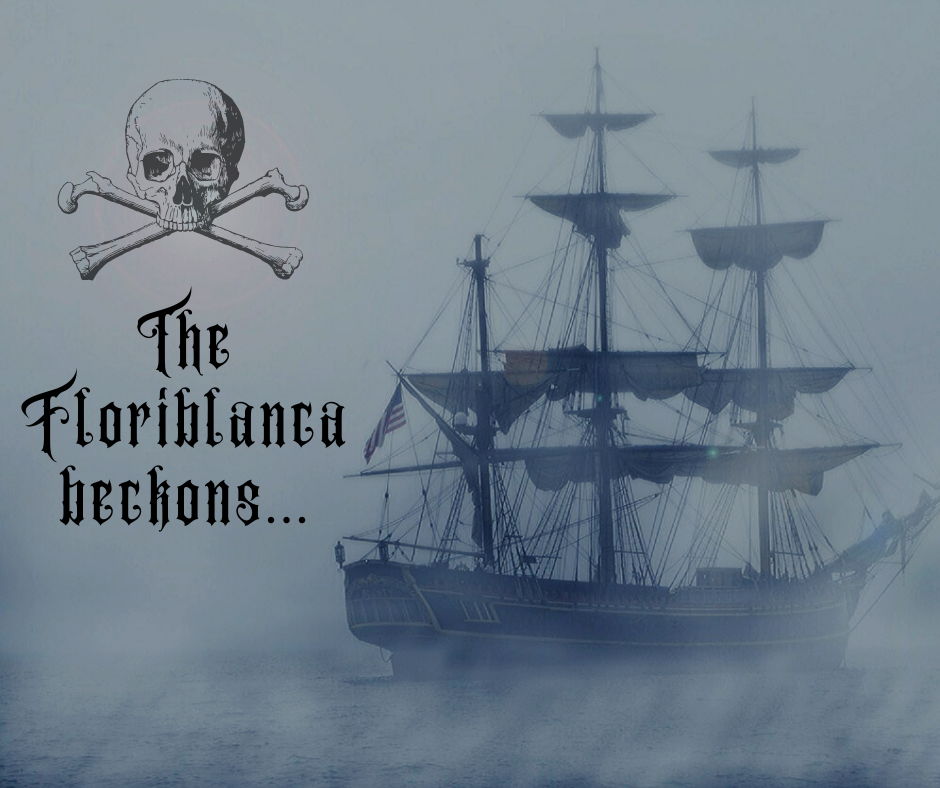 Spaces are limited and the clock is ticking. Book your escape today
Bring your bravest friends on this 70 minute voyage!
Two hundred years ago, the enigmatic Jose Gaspars ship, The Floriblanca, sank beneath the stormy waves in a fiery battle at sea. With it disappeared any trace of a man whose history, legacy, and even existence are hotly debated. Now you have your friends have stumbled on his ship, and have the chance to explore the treasures and mysteries that remain the most mysterious pirate in Florida.
Difficulty:

Number of Players

4-8 players (Minimum of 4)

Cost per Player

$37.00 per player (private room). 

Physical Requirements

This activity is not recommended for guests with bending or standing limitations. Call for more details.

Age Requirements

This activity is not suitable for children under the age of 12 due to level of difficulty, unless with parents or siblings. 

Birthday Party Recommendations
What Our Players Say
Full of Unexpected Surprises. 
BeccaBear24
Great evening out with friends.
Kristen28
Our game manager was amazing, hilarious and sarcastic in an awesome way.
Jrodismarried5
Extremely fun and engaging experience.
BeccaBear24
Restores faith in humanity.
Godlight
Challenging, but so much fun.
JanieM
Escaped with less than 2 mins left.
JanieM
I have been to many escape rooms, but never played one like this before!!
TiffTiff939
Included plenty of varieties of puzzles and unique props.
Kfarr42
The staff had great personalities. They made it fun.
JacquelynR
ALL of the employees we came in contact with were AMAZING!
DannyC
I HIGHLY recommend the Russian Spy Room.
DanielM
Unique aspects I hadn't seen in other escape rooms!
CaraDe1993
Best Escape Room We've Done!
JenniferL
Thank you for the experience of a lifetime!!
TiffTiff939
Made it out with only 2 minutes left!
JenniferL
I sooo enjoyed myself here and will be back with more friends.
Vernie74
Lots of fun, keeps you guessing!!
DeniseN
Thanks for a fun birthday night! I'll be back.
NikkifromTrinity
Compared to other escape rooms we visited, this was the one of the best.
MichelleD
Worked together and got out just in time.
Stefpan
Pirate is best suited for players 12 and up unless with parents or siblings. While any age child may join your party in the room, children under the age of 8 probably won't get much out of the experience and are NOT charged a fee, but we will need to know they are coming. Please make a note in the 'Reason for coming' to secure a spot for them. Please book the entire room if you plan on bringing your children.
There will be times in Pirate where bending and squatting are required. For those who need glasses, reading will be spread throughout the entirety of your game and glasses would come in handy. 
Pirate has a 3 1/2 lock level of difficulty room.
Not at all! Everything you need to solve the puzzles are available for you in the room.
Our Pirate room can hold up to 4-8 players; we do NOT recommend more players.
At least 15 minutes before your game time. Keep in mind that if you are later than 15 minutes past when your game should start, we begin your timer. Please do not arrive more than 15 minutes before your game, as we won't be ready for you yet.