Can You Escape? In The News
CAN YOU ESCAPE? WINS BEST TOURIST ATTRACTION IN TAMPA AWARD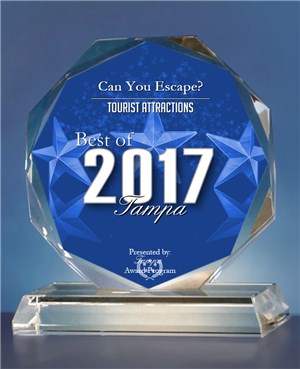 Best Tourist Attraction in Tampa Award for Can You Escape?
Press Release
FOR IMMEDIATE RELEASE
Can You Escape? Receives Best Tourist Attraction of Tampa Award
TAMPA July 6, 2017 -- Can You Escape? has been selected for the 2017 Best of Tampa Award in the Tourist Attractions category by the Tampa Award Program.
Each year, the Tampa Award Program identifies companies that we believe have achieved exceptional marketing success in their local community and business category. These are local companies that enhance the positive image of small business through service to their customers and our community. These exceptional companies help make the Tampa area a great place to live, work and play.
​
"We are tremendously excited to receive the best tourist attraction in Tampa award. We love what we do here and are humbles by all of the praise and recognition that we have received lately," said John Collins, founder and owner of the independently owner escape room, Can You Escape?.  This stands as the second award Can You Escape? has received in the last 30 days.
Various sources of information were gathered and analyzed to choose the winners in each category. The 2017 Tampa Award Program focuses on quality, not quantity. Winners are determined based on the information gathered both internally by the Tampa Award Program and data provided by third parties.
About Can You Escape?
Can You Escape? is Tampa's #1 escape game provider. The two-year-old company boasts one of the largest escape room venues in the world, hosting up to 75 people per hour and currently operating 8 rooms with another opening in July. The venue offers team building groups, families, friends and teams of all sizes the opportunity to Escape from the Office, Escape from London, take the King's Challenge with The Medieval Adventure, and be Trapped in a Room with a Zombie. The concept of escape rooms, also called puzzle rooms or real-live escape games, is the fastest growing trend in attractions worldwide. Teams are locked inside fully themed rooms and have one hour to find the clues, solve the puzzles and figure out a way to open the door. Their popularity exploded so suddenly that TripAdvisor has had to change their algorithms several times because the games were ranking higher than international landmarks such as the Eiffel Tower, the British Museum, and the Statue of Liberty.
 About Tampa Award Program
The Tampa Award Program is an annual awards program honoring the achievements and accomplishments of local businesses throughout the Tampa area. Recognition is given to those companies that have shown the ability to use their best practices and implemented programs to generate competitive advantages and long-term value.
The Tampa Award Program was established to recognize the best of local businesses in our community. Our organization works exclusively with local business owners, trade groups, professional associations and other business advertising and marketing groups. Our mission is to recognize the small business community's contributions to the U.S. economy.
SOURCE: Tampa Award Program
CONTACT:
Tampa Award Program
Email: PublicRelations@thebestawards.org
URL: http://www.thebestawards.org
###
For More Information Contact:
Kristi Collins at 813-787-8101 or Kristi@can-you-escape.com